The Yubari King Melon (夕張メロン, Yūbari Meron, Yūbari melon) is a cantaloupe cultivar . They grow the melon in greenhouses in Yūbari, Hokkaido, a small city close to Sapporo.
The Yubari King Melon is a hybrid of two other cantaloupe cultivars: Earl's Favourite and Burpee's "Spicy" Cantaloupe. The hybrid's scientific name is Cucumis melo L. var. reticulatus Naud. cv. Yubari King.
A top-grade melon is to be perfectly round and have an exceptionally smooth rind. Also, they leave a portion of the stem on the top for aesthetic appeal.
At a Japanese auction in 2008, two Yubari King melons sold together for ¥2.5 million. Moreover, in 2016, Konishi Seika, a fruit and vegetable market in Amagasaki, bought a pair of Yubari King melons at auction with a winning bid of ¥3 million. Consequently, some Japanese people present Yubari King melons as gifts during Chūgen (中元).
In 2019 Tokyo-based Pokka Sapporo Food & Beverage Ltd bought a pair of Yubari King melons at auction for the highest recorded price of ¥5 million.
(Source: Wikipedia).
Note: ¥5 million is about 45.0000 USD. So this makes it one of the most expensive fruits in the world.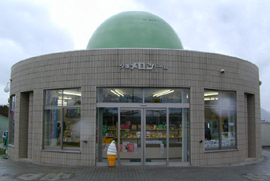 The melon business does not stop with just mere sales of the fruit itself.
In Yubari (and every tourist shop in Hokkaido), melon goods, all with the orange flesh tint and the Yubari Chinese kanji characters are prominently shown on the packaging. In addition, an entire cottage industry dedicated to melon-related products has also been created.
Yubari's Melon Dome, a cylindrically-shaped souvenir stand with a large green orb (presumably a melon) on its roof, dedicates itself to the sales of these products.